Heel Spurs and Plantar Fasciitis
A heel spur is a calcium deposit causing a bony protrusion on the underside of the heel bone. On an X-ray, a heel spur can extend forward by as much as a half-inch. 
Without visible X-ray evidence, the condition is sometimes known as "heel spur syndrome."
Although heel spurs are often painless, they can cause heel pain. They are frequently associated with plantar fasciitis, a painful inflammation of the fibrous band of connective tissue (plantar fascia) that runs along the bottom of the foot and connects the heel bone to the ball of the foot.
Treatments for heel spurs and associated conditions include exercise, custom-made orthotics, anti-inflammatory medications, and cortisone injections. If conservative treatments fail, surgery may be necessary.
Causes of Heel Spurs
Heel spurs occur when calcium deposits build up on the underside of the heel bone, a process that usually occurs over a period of many months. Heel spurs are often caused by strains on foot muscles and ligaments, stretching of the plantar fascia, and repeated tearing of the membrane that covers the heel bone. Heel spurs are especially common among athletes whose activities include large amounts of running and jumping.
Risk factors for heel spurs include:
Walking gait abnormalities,which place excessive stress on the heel bone, ligaments, and nerves near the heel
Running or jogging, especially on hard surfaces
Poorly fitted or badly worn shoes, especially those lacking appropriate arch support
Excess weight and obesity
Other risk factors associated with plantar fasciitis include:
Increasing age, which decreases plantar fascia flexibility and thins the heel's protective fat pad
Diabetes
Spending most of the day on one's feet
Frequent short bursts of physical activity
Having either flat feet or high arches
Symptoms of Heel Spurs
Heel spurs often cause no symptoms. But heel spurs can be associated with intermittent or chronic pain -- especially while walking, jogging, or running -- if inflammation develops at the point of the spur formation. In general, the cause of the pain is not the heel spur itself but the soft-tissue injury associated with it.
Many people describe the pain of heel spurs and plantar fasciitis as a knife or pin sticking into the bottom of their feet when they first stand up in the morning -- a pain that later turns into a dull ache. They often complain that the sharp pain returns after they stand up after sitting for a prolonged period of time.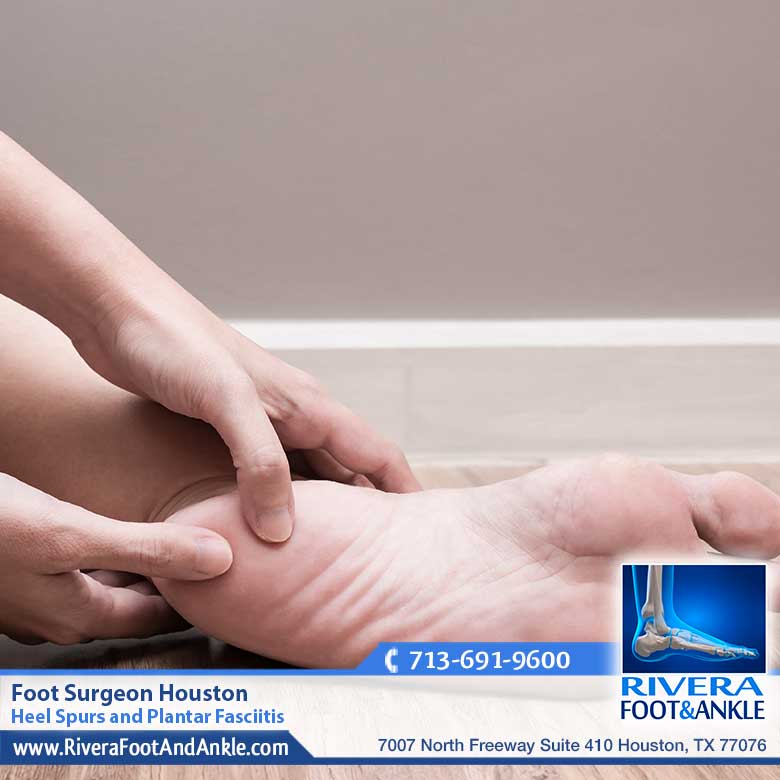 Source: Webmd
RIVERA FOOT & ANKLE: At Orlando H.Rivera DPM, our priority is to deliver quality care to informed patients in a comfortable and convenient setting. When you have problems with your feet, you need to turn to a podiatrist who listens and responds… an experienced doctor who knows the field and can effectively diagnose and treat your needs… a friendly physician who counsels you on the best ways to maintain and improve your health. Our physician(s) meet all these criteria. Plus, you benefit from a dedicated team of trained professionals who give you the individualized attention you deserve.
 Foot Surgeon Houston
Foot and Ankle, Dr. Orlando Rivera, Advanced Foot & Ankle Specialist, Foot and Ankle Podiatry, Houston Foot & Ankle Surgical, Treatment of Foot and Ankle, Foot & ankle specialists, Podiatrist in houston, podiatrist in houston, Orlando H.Rivera DPM, Houston Foot Doctor, Foot and Ankle Surgeon Houston, Ankle and Foot Specialist Houston, Podiatrist Houston, Foot Pain Houston.