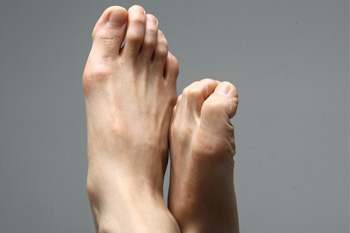 Definition and Symptoms
Hammertoe and mallet toe are two foot deformities that occur most often in women who wear high heels or shoes with a narrow toe box. These types of footwear may force your toes against the front of the shoe, causing an unnatural bending.
A hammertoe has an abnormal bend in the middle joint of a toe. Mallet toe affects the joint nearest the toenail. Hammertoe and mallet toe are most likely to occur in the toe next to your big toe.
Relieving the pain and pressure of hammertoe and mallet toe may involve changing your footwear and wearing shoe inserts. If you have a more severe case of hammertoe or mallet toe, you may need surgery to experience relief.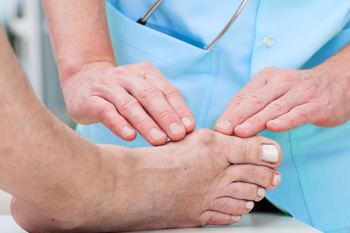 Factors of Bunions

Bunions develop when the pressures of bearing and shifting your weight fall unevenly on the joints and tendons in your feet. This imbalance in pressure makes your big toe joint unstable, eventually molding the parts of the joint into a hard knob that juts out beyond the normal shape of your foot.
Experts disagree on whether tight, high-heeled or too-narrow shoes cause bunions or whether footwear simply contributes to bunion development. Other causes include:
Inherited foot type
Foot injuries
Deformities present at birth (congenital)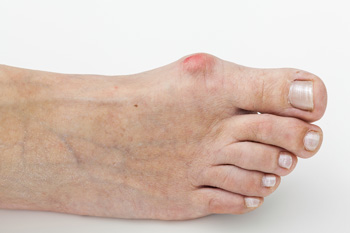 Definition and Symptoms
A bunion is a bony bump that forms on the joint at the base of your big toe. A bunion forms when your big toe pushes against your next toe, forcing the joint of your big toe to get bigger and stick out. The skin over the bunion might be red and sore.
Wearing tight, narrow shoes might cause bunions or might make them worse. Bunions can also develop as a result of an inherited structural defect, stress on your foot or a medical condition, such as arthritis.
Smaller bunions (bunionettes) also can develop on the joint of your little toes.
Learn About Your Injury
An ankle fracture is a break in 1 or more ankle bones. These fractures may:
Be partial (the bone is only partially cracked, not all the way through)
Be complete (the bone is broken through and is in 2 parts)
Occur on 1 or both sides of the ankle